Daniel of cakesbydharneal is arguably one of my favorite people ever! A kind heart, a skilled hands, a little bit of sarcasm, a great sense of humor and an all round great guy 😁. One of my favorite quotes in recent times was from him. You can't grow if you're competitive- Daniel Obuh.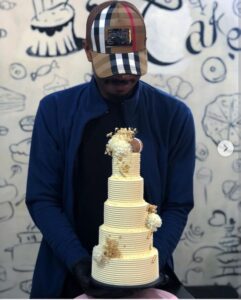 Daniel's works fascinates me a lot, and he's a self taught baker😁, so if you're wonder how to be a self taught baker or how to stand out in a field you should read on
Hi Can we meet you?
My name is Daniel Obuh, I am 27years old. I am from Delta but I was born in benin City. I studied accounting and graduated from Uniben.
How did you start baking?
I started baking when I was in school, 200 level
Where did you train?
Actually I didn't go to a place to train per say, I learnt from basically watching videos on youtube, a lot video.. a looot. I started learning baking because I wanted to raise money for my self, to be independent, to actually do ICAN, that was why I started baking. (Side note Daniel didn't finish the ICAN 🤣🤣, He's now a full time baker)
You are known for making unique cakes designs what inspires your designs?
My designs are inspired by things around me, colors, I can see a color on somebody and it catches my eyes and I say let me try it on a cake. Sometimes I combine 2,3 designs from different bakers to make 1.
I know you have a numbers of bakers around you, you're constantly posting their works and cheering them on. Why do you do this and how are you able to still be secured in your self knowing that they are 'competitors'
I post them because I'm trying to encourage them too, we're pushing each other to succeed. I post them, they post me, it's like a 360°. I don't really see anyone as competitor per say, the sky is big enough for everyone to fly, there are lot of bakers and so there are lots of clients, one person cannot bake for everybody. If I post your work and somebody on my timeline sees it and contacts you, he's your client, the sky is big enough for everyone to fly.
95% of male bakers are super good at what they do. Is there a secret you guys aren't sharing with us 😁😁?
Actually I don't know, I really don't know. I don't have any clue to this. 😁
As a male in a female dominated industry what are the challenges you face?
Actually, I don't put my mind to it, I just want to bake and make money and just be at peace. When I started baking, I got comments like 'you're baking, baking is a woman's work' back then in 2015, it's a woman's job, go and learn something later or barbing, tailoring but I didn't let them get to me, because I know this is what I like. At the end of the day it's my life, not yours, if you feel I'm learning baking, a woman's job, go and learn what you want me to learn, so you'd be at peace with your life.
Do you think baking is a profitable business?
Yes it is actually and it's also stressful.
Being a baker in Nigeria what are the challenges you face?
There a lot, like a whole lot, I'd take it down to the basic social amenities, road and light.
Baking involves using electricity alot, if you live in area where there's no constant light, you'd keep buying fuel everyday.
The roads are generally bad. Delivering cakes can be scary so you don't destroy a cake you've spent efforts baking.
What does the future look like for @cakesbydharnael?
The future looks good 😊 but it's in the hands of God.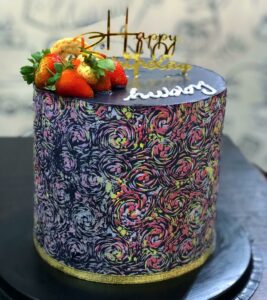 What would you say to a young baker who is starting small and wants to grow in this business?
Just continue what you're doing, and don't let side talks get to you, because if it gets to you, you might change your style in a way that your work will not carry the uniqueness it's supposed to carry. Just do your best and leave the res for God.
What would you like to say to we your fans that are fascinated by your works and want to be like you when we grow up 🙊 😁?
I would just say a big thank you, the DMS, the comments and all, it's really nice. Thank you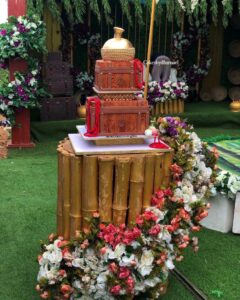 Please visit Daniel's page on Instagram @cakesbydharnael to see an amazing world of edible art
Got questions or contributions?
You can drop them in the comments.
Your comments help us to know if we're doing a good job.